2023 He Got Up Event Dates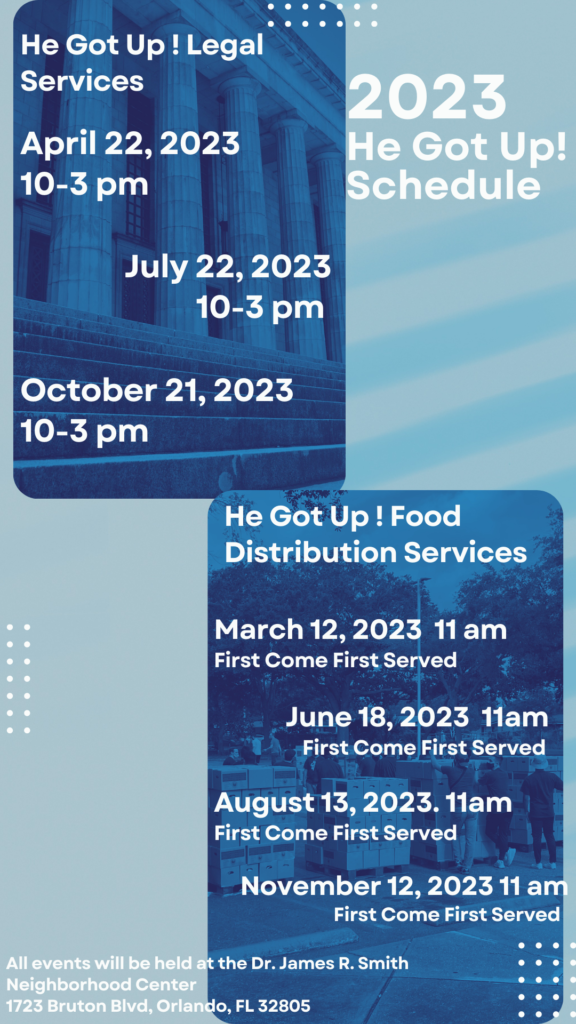 He Got Up!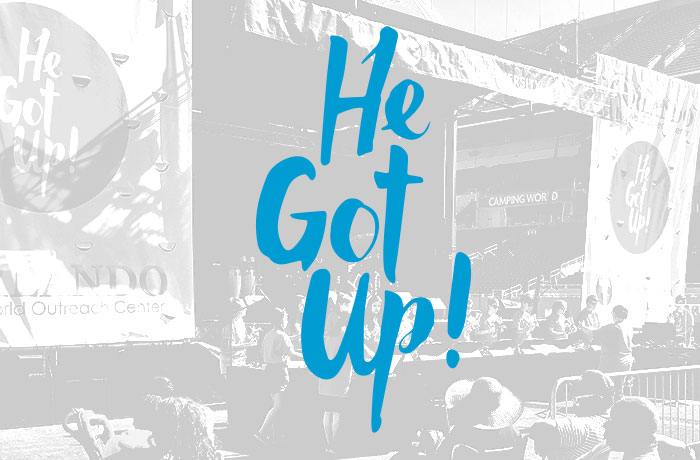 Connecting communities and resources to provide systems of care to individuals and families in need in Central Florida.
Tim Johnson, senior pastor for Orlando World Outreach Center, is the driving force behind He Got Up. Concerned with the growing number of crises and division in communities across the United States, Johnson felt called to create an event that would unite Central Florida by bridging the divide between the haves and have-nots in our community.
What is the He Got Up! event all about?
Orlando Serve Foundation presents "He Got Up", a day of celebration and service for individuals in need.  Two typed of events have been planned for 2022 which will feature:
Service of Free Food for Families
Compassionate Restorative Justice
Help with Driver's License and Court Cost Issues
Government leaders, agencies, non‐profit organizations, businesses, faith based organizations, and community volunteers will work together to provide a cohesive aide for those in need
Development of Employment Opportunities for Participants
Food, Drinks and Family activities provided
The Orlando Serve Foundation coalesces existing programs and services from public and private sectors, and leverages resources to achieve a sustainable, holistic solution for participants and their families.
Collaborative partnerships across the Greater Central Florida area will be strengthened participants, volunteers and community partners are exposed to resources within our communities. This coalescence will facilitate connections with one another, cross-pollinate services, and leverage their resources.  Together, this public/private partnership consist of a large community of individuals, corporations, and organizations uniting resources and building a model that works.  This model has been shown to be successful since we began our work in 2015.
To Help Individuals and Families Become Self-­Sustainable by offering a helping hand when needed through offering life changing opportunities which relieve individuals and families from barriers homelessness, joblessness and the cycle of poverty.
There is a large population that live in local motels, the woods, cars, and other undesirable locations for those perceived to be on the fringes of society. However, we are an innovative and creative community that will accomplish the seemingly impossible. We make an impact with this cohesive collaboration in focused locations throughout the community.
Government Leaders, Agencies, Businesses, Non-Profit Organizations, Faith Based Organizations, Community Volunteers.
Our success, is reflected unified effort in three areas:
Funding: Engaging non-profits, corporations, and individuals to meet the budgetary needs.
In Kind Services/Donations: Receiving donations and services from our partners, volunteers and participants.
Volunteers: Offering opportunities for individuals to assist at various events and beyond.