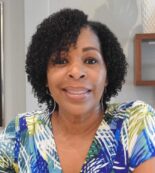 Alice Greene is the Board Secretary for the Orlando Serve Foundation.
Before joining the Orlando Serve Foundation Team, Alice served as the Financial Assistance Director, Event Director, and Operations/Facilities Manager for New Life Church of God in Christ from 2004 to 2016.  New Life is a seven-location church in Montgomery, AL.  Alice executed her diverse duties in support of all seven church locations within New Life Ministries and the New Life radio station site.
In her many roles, she managed the process of providing financial assistance to members of the church and community.  She ensured quality, timely, and financially responsible upkeep of all New Life facilities.  She also managed and coordinated the logistics of church functions, such as funerals, weddings, banquets, and concerts. Over the years, Alice has enjoyed some unique opportunities to serve in managing church concert venues for several gospel artists, including Mary Mary, Donnie McClurkin, Tye Tribute, Marvin Sapp, Kim Burrell, and James Fortune.
Prior to her service in ministry, Alice served her country though 14 years of Civil Service with the Federal Government.  Her positions in government included Department of Defense (DoD) Financial Management Secretary, DoD Commissary Secretary, DoD Family Support Chief of Administration, and DoD Air Force Aid Officer.  In her role as Air Force Aid Officer, she coordinated efforts with humanitarian emergency relief agencies in Japan and the U.S.  Alice has also been a Sales Director in Mary Kay and has spent several years in the Mortgage Banking Industry.
Alice holds an Associate Degree in Social Science, and an Executive Secretary Associate Degree.  She has completed Suicide Hotline Prevention Crisis Training, Air Force Aid Officer Training, and many other Federal Administrative Education and Training Courses.
Alice is passionate about serving in her local church and in the community at large.  She is a helper at heart and always willing to step in to provide assistance.
She has been married to her wonderful husband, Samuel, for over three decades.