February 28, 2017
Posted by:

Beth Kennedy

Categories:

He Got Up, Latest News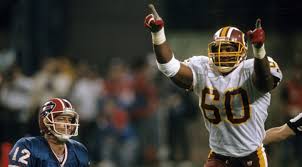 Orlando Serve Foundation Welcomes Fred Stokes to our 2017 Celebrity Gala & Golf Tournament at the The Ritz-Carlton Orlando, Grande Lakes, Orlando, FL March 2-3rd.
About Fred Stokes

Fred Stokes: (Super Bowl Champion, Speaker, Author, Entrepreneur)
"Fred Stokes has a personal mission to positively enhance the life of every person who comes across his path. His down to earth personality and his uncanny ability to connect with people is what sets Fred Stokes apart from other athletes of his caliber..."
While attending High School in Vidalia, Georgia, Fred excelled in Basketball, and Track. However, it was not until his senior year that he decided to give football a try.  As a result of his outstanding play on the field, Fred was offered a full scholarship to play football for the newly formed Georgia Southern Eagles in Statesboro, Ga. under the legendary leadership of Coach Erk Russell. While at Georgia Southern, Fred played on two National Championship teams (1985 and 1986).  Fred was one of two players on his team voted First Team All-America after his senior season as an Offensive Tackle.
In 1987, Fred was drafted into the National Football League where he would spend the next ten years playing Defensive End for the Los Angeles/St. Louis Rams, Washington Redskins, and the New Orleans Saints.  Fred had the awesome privilege of playing in and winning Super Bowl XXVI with the 1991 Washington Redskins against the Buffalo Bills. In that game, Fred recorded two and half sacks, one forced fumble and one fumble recovery.  Fred's teammates affectionately labeled him "Big Play Stokes" because of his knack for making the "BIG PLAY" at just the right time of a ball game.
After retiring from the NFL, Fred went back to his Alma Mater (Georgia Southern University) and completed his degree in 1998.  A few short years later Fred got his first taste of the food business while reconnecting with one of his lifelong friends from college.  His friend was promoting their family's signature product called the "Bubba Burger."  Over the next several years, Fred would travel the globe selling and marketing products to the military for Advance Foods (currently known as AdvancePierre Foods).
In 2007, Fred established Fred Stokes Foods.  Their signature item is "Fred Stokes Sausage."  It is sold in select retail markets in Southeast Georgia, North and Central Florida.  It is currently distributed by three of the top distribution companies in the country.
In addition to promoting his brand of Sausage, Fred uses both his life experiences and his time spent on the football field as he speaks to different organizations around the country, including our service men and women.  In the mist of all of the travel, Fred found the time to write and publish his autobiography entitled "The Bridge That Brought Me Over."   Fred and his wife Regina have three sons and currently live in Orlando, FL.
Email:  [email protected]
Website:  fredstokesfoods.com
Phone:  912.293.3560